NEW ROBOTIC BLASTING CHAMBER FOR CLEANING OF FREIGHT CARS
NEW ROBOTIC BLASTING CHAMBER FOR CLEANING OF FREIGHT CARS
Railway car repair company, 2020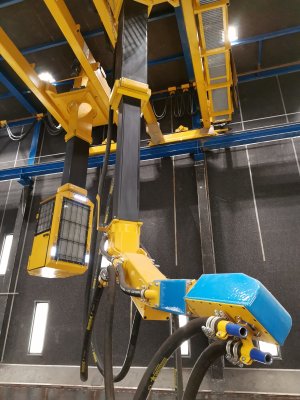 PURPOSE OF THE PROJECT
The customer had to meet the requirements of the new GOST state standards, which determine the painting of freight cars during overhaul. When choosing a technology for a new painting line, various methods of cleaning the surfaces of railway cars from old paint before painting, rust, and other contaminants were considered. Among the mechanical cleaning methods permitted by GOST, steel grit blasting is undoubtedly the most suitable and effective. The production plan of the plant provides for the cleaning and painting of 5 railway cars per shift. A prerequisite for achieving high-quality paint is compliance with the high quality of surface treatment: surface preparation class Sa 2½. Considering the requirements, it was decided that the Blastman robotic blasting chamber is the best option for cleaning railway cars.
---
TECHNICAL INFORMATION
| | |
| --- | --- |
| Number of robots | 1 robot B20CS |
| Number of nozzles per robot | 2 nozzles, 19mm |
| Blasting pressure | 8-10 bar |
| Blasting capacity | op to 150 m2/hour |
| Abrasive | Steel grit |
| Robot movement axis | 8 |
| Programming | PTP (point to point) |
| Operation mode | Automatic |
---
TECHNICAL SOLUTION
When designing the robotic blasting chamber, technical solutions were developed to carry out blasting and subsequent air-blowing of railway cars both under the control of the operator (from the robot's cabin) and fully automatically according to the given program. The equipment delivery set includes Blastman B20CS blasting robot, Blastman BP 1100 automated two-chamber nonstop blast pot that feeds abrasive to 2 nozzles of the robot at once, abrasive collection and recovery system, air purification system, lighting and safety systems.
Despite the Covid19 restrictions in 2020, the equipment of the blasting chamber was successfully installed and tested. In September 2020 the Blastman blasting chamber was put into operation by the customer.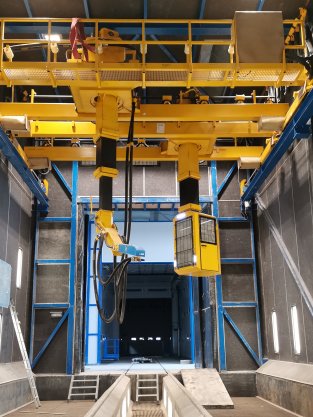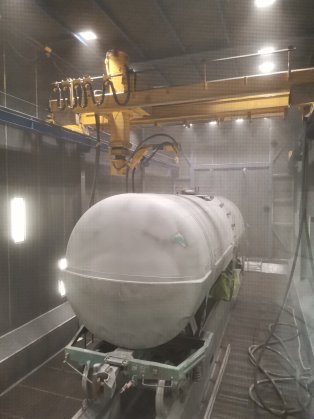 RESULT
Blasting of railway cars is carried out in a fully automatic mode. The required production performance of the line for cleaning and painting of railway cars has been achieved. By optimizing the robotic blasting programs and using the correctly selected abrasive, the required surface preparation class Sa 2½ and roughness have been achieved.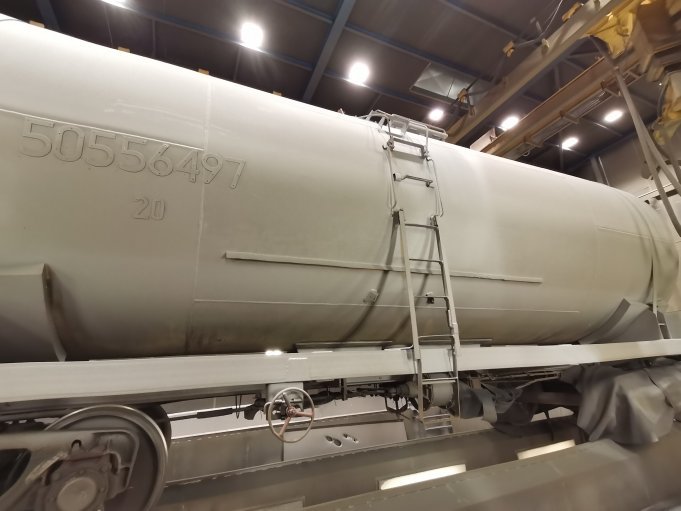 ---