Wall-Mounted Robots Generation 4.0
Whenever vertical space is limited, a wall-mounted Blastman robot is used. It is possible to have two robots working together from opposite walls, or to have the workpiece turned when using just one robot.
The main movements of wall-mounted robots are longitudinal and vertical. Every model is capable of handling one or two nozzles with a diameter of 12-19 mm and pressure up to 10 bar.
The main dimensions are tailored according to the blast room and workpiece dimensions.
---
BLASTMAN B16XS GENERATION 4.0
The Blastman B16XS is the latest wall mounted blast cleaning robot. The slim frame of the robot allows for better movement in smaller workspaces and more flexibility with complex workpieces. The small and flexible design of the B16XS makes it easy to retrofit into existing blast chambers.
Download datasheet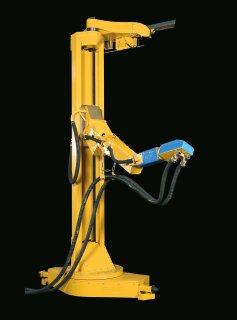 ---
BLASTMAN B16XS GENERATION 4.0
BLASTMAN B12S GENERATION 4.0
The Blastman B12S is a wall-mounted - blasting robot developed for blasting tubular workpieces, such as sections of wind turbine towers. The frame of the robot moves the robot arm in the longitudinal direction of the blast room on rails that are fixed on the walls. The purpose of the robot arm is to direct and move the blasting nozzles. The Blastman B12S robot typically consists of four (4) axes and one external axis which controls the rotating stand of the workpiece.
The Blastman B12S robot applications include tubular workpieces, such as windmill tower sections.
Download datasheet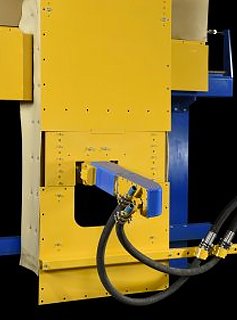 ---
BLASTMAN B12S GENERATION 4.0