BLASTMAN ROBOT MBU - MOBILE BLASTING UNIT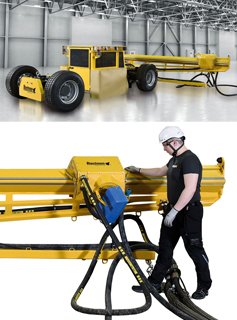 BLASTMAN MBU - MOBILE BLASTING UNIT
Blastman MBU is a movable blasting robot/manipulator, which provides very high efficiency with large blasting nozzles.
THE SMART OPERATING INTERFACE AND DRIVE MECHANISM
Blastman MBU provides excellent flexibility for your blasting application. Blasting is controlled by the operator from an ergonomic and airconditioned cabin. The movements of the MBU are controlled from joysticks or from the user interface in the panel PC.