BLAST CLEANING OF LARGE CASTINGS
Blog Posts
Company News
Events
BLAST CLEANING OF LARGE CASTINGS
Valmet Technologies Oy, Jyväskylä Foundry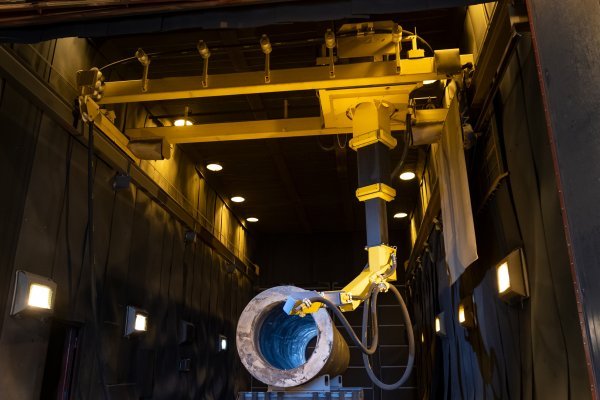 BACKGROUND
Valmet Technologies Oy, Jyväskylä Foundry is a part of the famous Finnish concern VALMET – a leader in the supplying of technologies for the paper and board industry. Foundry specializes in manufacturing heavy castings as cylinders for paper machines. Valmet had many years of successful experience using the Blastman robot at its production facilities. The robot cleans large castings from sintered sand and other impurities that have gathered on the workpiece surface during the casting process.
OBJECTIVES
The previous robot was used for more than 25 years and required replacement. The target was also to increase the efficiency of the blasting process using the robot in automatic mode and creating blasting programs with the new programming software – Blastman Studio.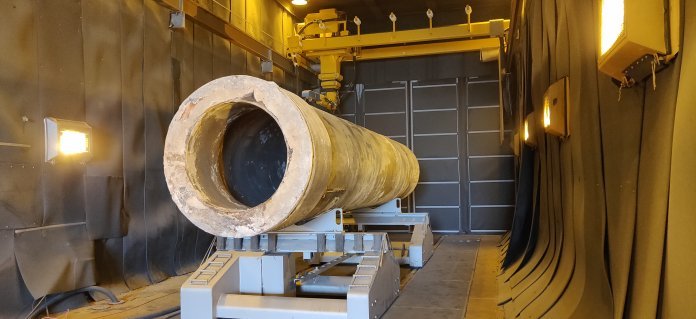 Blastman B20S robot with and workpiece
SOLUTION
The last, 25 years old blasting robot B20C with a cabin for manipulator function was replaced by the modern robot Blastman B20S G4. The first delivery in Finland of a new, created by Blastman, Generation 4 robot.
The robot works in automatic mode according to previously developed blasting programs. Delivery includes also new double chamber Blastman blast pot BP1100 which allows continuous operation of the robot.
Using a robot in automatic mode, operators have time for other preparatory tasks.
Creation of blasting programs for robots happens by existing operators using new online software – Blastman Studio, always included in robot delivery.
Blastman Studio is a tool created by Blastman, especially for robots and blasting processes. It is intuitive software, creating and modifying blasting programs is fast and easy.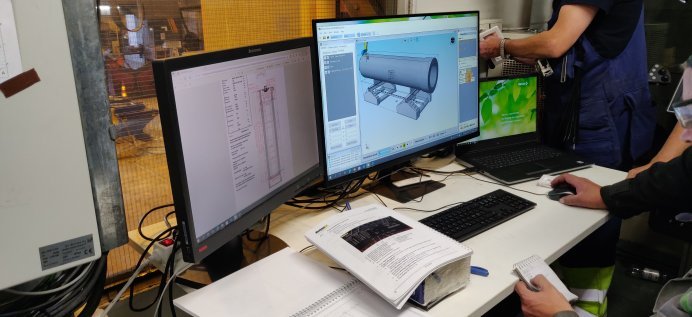 Offline programming - Blastman Studio
TECHNICAL INFORMATION
| | |
| --- | --- |
| Nozzle diameter | 16mm |
| Number of nozzles/robot | 1 |
| Blasting pressure | 8 bar |
| Abrasive | Steel grit |
| Degrees of freedom | 8 |
| Blasting rate | 80 - 130m2/h |
| Programming | Offline: Blastman Studio |
| Operation mode | Automatic |
RESULTS
The new robot works in automatic mode without the operator's continuous control, the operator has more time for other tasks. Using the modern robot Blastman B20S and effective blasting programs allowed us to reduce the blasting time and increase surface treatment quality.