Abrasive blasting invaluable for rail industry
ABRASIVE BLASTING INVALUABLE FOR RAIL INDUSTRY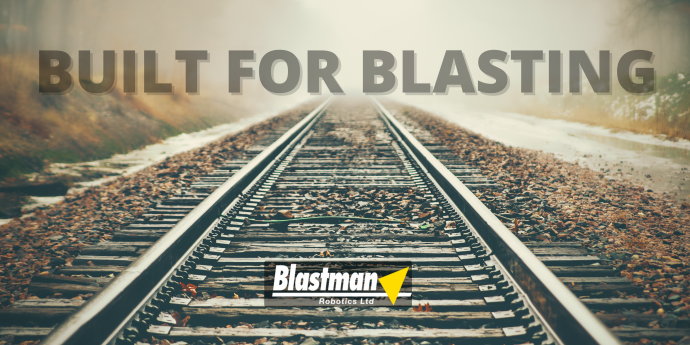 With over 40-year experience and a position as the world leader in the supply of robotic abrasive cleaning systems, establishing the rail industry as the single biggest customer segment of Blastman Robotics is saying something. Conversely, Blastman is a significant operator in the rail industry. This is no wonder since the company's robotics is used by every major manufacturer in multiple countries.

Alstom has utilized Blastman's blast cleaning solutions since 1988 and nowadays has robots in seven countries. In the freight car industry, Blastman has supplied 16 robots to National Steel Car, and various freight cars have been robotically blasted since the 90s. These are only a couple of examples.

Nowadays locomotives; regional, suburban, intercity, and high-speed trains; metro cars as well as freight cars such as hopper, tank, and box cars are blast cleaned by Blastman's robots every day. Check out more about Blastman's references, testimonials, and case studies on passenger coaches as well as freight cars, and read along to find out more about abrasive blasting in the rail industry.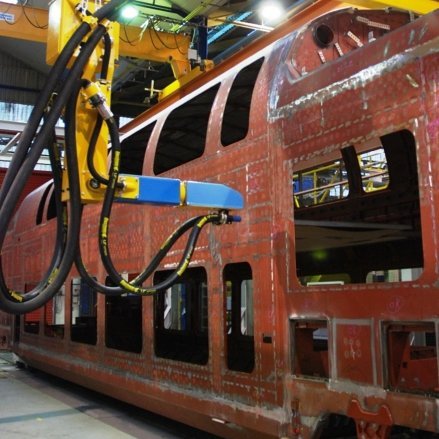 Blastman B20S robot blast cleaning passenger coaches
Back on track after wear and tear
In the rail industry, abrasive blasting is most commonly used for the cleaning of the interior and exterior surfaces of all kinds of train cars, coaches, and locomotives. Additionally, abrasive blasting is used for the cleaning of bogies and wheel sets.

When in use, rail industry products have to endure a lot. They are constantly under the influence of weather conditions, and when in transport, the effect is combined with air resistance and projectiles such as stones, sand, and dust. On the inside, freight cars are eroded by the constant loading and unloading of goods, especially if the transportable material is corrosive in itself. Inside passenger coaches, the condition of the surface is often a cosmetic matter, but naturally, it also has a protective role against corrosion.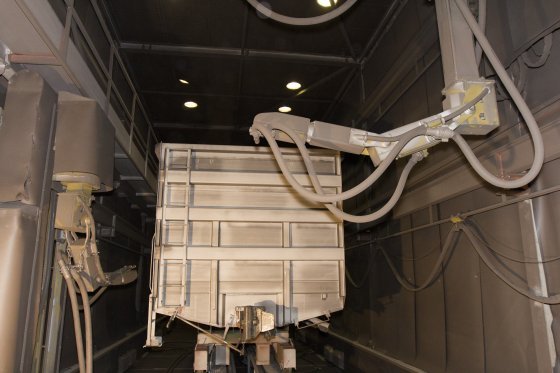 Blastman robots blast cleaning freight car

Train cars are usually protected with paint or other coatings. As it wears off, the cars become vulnerable to decay. Even if a car is made of stainless steel or aluminum, losing the protective surface exposes the underlying material to mechanical wear. If the car is made of plain steel, the wear of the paint exposes it to rusting that in turn accelerates the chipping of the surface layers.

At the same time manufacturers have to grant guarantees for their paint jobs for up to years. To be able to do so they need to make sure the surface is treated to pristine order. If in normal use the paint wears off before its time, the manufacturer is usually the one responsible.

On the other hand, the manufacturers often sell not only the train cars but rather their whole lifespan. Typically the contracts include certain definitions for maintenance, such as the frequency of repainting. After spending a certain amount of time on the track, the train cars are partially or completely repainted.

For these needs, Blastman offers robotic solutions that enable reprocessing surfaces in places or blasting an entire car inside out. With robotics the surface can be cleaned and coated correctly and with consistent quality, enabling strong adhesion between the coating and the metal, and as long a lifespan as possible.
Abrasive blasting in the rail industry surprisingly delicate business
Consistency in blasting is paramount in other ways too. Stainless steel and aluminum need to be blasted with different abrasive materials than steel. Additionally, aluminum bodies and panels can be very thin and thus vulnerable to denting or other deformation. This makes it necessary to adjust the process correctly.

When looking at the rail industry's needs to which abrasive blasting answers, there really is no viable alternative. Anything else would be far too time-consuming or expensive. Within the blasting industry, there are of course methods to choose from. Even though manually operated blasting equipment enables adjustments to the amount of abrasive material and the air pressure propelling it, it still leaves a lot of room for human errors. As robots always follow their program, they can be trusted to deliver the same results every time, safely, and precisely.

In addition to practical benefits, there are circumstances that pretty much necessitate using robotics. As one ponders the possible allure of squeezing through a 500 mm hatch on top of a hopper car donned in all possible safety gear and then spending up to hours inside hot, noisy, and all in all dangerous surroundings, it's fairly easy to see the benefits of a telescopic robot arm, isn't it?

Even if the circumstances were less claustrophobic, there is still the aspect of efficiency. As a human laborer needs to spend time shifting operating positions and moving the gear, a robot speeds up the process with swift and accurate motions, essentially moving like a thought. The effect is especially emphasized when blasting all possible nooks, crannies, and compartments.

Robots fit the technically advanced field of the rail industry
Contrary to a common misconception, rail industry manufacturers are not forge-like sweatshops. Instead, the field is very advanced with extremely high requirements for production speed, quality, and automation that rely heavily on data. For these reasons the industry also expects high reliability.

What may also come as a surprise to many, is that the rail industry has already utilized robotics for all kinds of means and purposes. Incorporating robotic solutions in the surface treatment of train cars is consequently not only smart but natural.

Blasting robots can be fitted into a pre-existing blasting chamber and there can be as many robots as needed. This way the process can be scaled to very large proportions. With Blastman's solutions, some manufacturers have achieved a processing speed of a train car every 30 minutes.

Read more about the efficiency of robotic blast cleaning solutions.

Blastman robot live demonstration at InnoTrans 2022, 20 - 23 September, hall 6.2 booth 365.
WELCOME TO VISIT OUR BOOTH!