MAN + Blastman = Improved Efficiency in Engine Surface Treatment
Blog Posts
Company News
Events
MAN + Blastman = Improved Efficiency in Engine Surface Treatment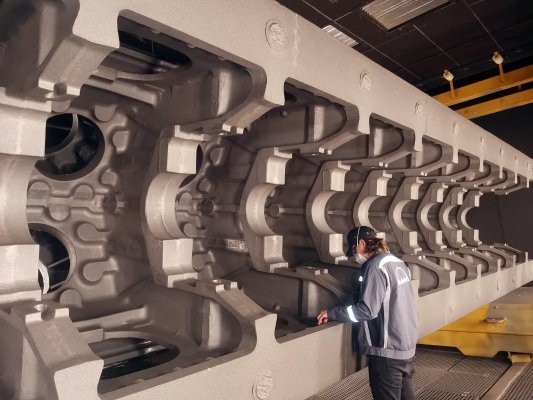 When MAN Energy Solutions needed to renew its surface treatment process Blastman Robotics stepped in to help. As a German multinational company and part of the Volkswagen group, based in Augsburg, Germany, MAN Energy Solutions manufactures large-bore gas and diesel engines and turbomachinery for marine, rail and stationary applications with a requirement for high surface quality. With Blastman's automated robotic abrasive blasting solution the company has been able to not only maintain just that but also to achieve it more efficiently and improve its occupational safety.
- We first became interested in Blastman's solutions in 2016, The Head of Production Management of MAN Energy Solutions, Stefan Jungwirth recollects.

- Gradually we took the first steps by getting to know them better. What truly convinced us, though, were the demonstrations Blastman held for us with our own castings.


World leader in robotic abrasive blasting solutions natural choice
Jungwirth explains that the needs that led MAN Energy Solutions to look for a service provider for the changeover of its surface treatment process can be divided into two main factors.

- We were aware of the fact that our existing blast wheel was about 30 years old and had to be replaced. However, we did not want to simply replace it with the same kind of solution. Instead, we wanted something that would be best for us.

- Another factor was, that our process also included a lot of manual shot blasting and our goal was to reduce its role as much as possible.

Jungwirth states that choosing Blastman came to fruition quite naturally.

- Blastman is pretty much the one and only company that can provide such a range of service – and I speak from experience. To be fair, there are some other companies that might have been able to provide us with a robotic blasting solution, but they don't manufacture their own equipment. We also found that many companies first claimed to be able to provide a sufficient solution but, in the end, had nothing to show for it.

In with the new, out with the old – robotic abrasive blasting for more efficient process
Jungwirth describes the schedule of the new abrasive blasting solution as very challenging.

- In most foundries we have about three weeks' time window for closing them for maintenance. The challenge was to scrap the old solution and put up the new one in six weeks – in one shot.

- While with some smaller goals it took a little longer, the main goals were achieved, Jungwirth rejoices.

Jungwirth says there has been some issues but nothing that would prevent production.

- We never expected the process to run completely smoothly right away and it's understandable with a sophisticated solution. The bigger challenge is, that since Blastman doesn't have a service location here in Germany, it can take some time to get the right people on location.

- However, it's not like they wouldn't want to help. On the contrary, Blastman is always open to communicate, and we always get answers and help. The important thing is that they have been able to resolve everything, and we have been able to run our process constantly. They know their equipment well and everything runs smoothly, Jungwirth praises.


Robotic abrasive blasting enabled improved efficiency
Jungwirth sees a natural continuation to the cooperation with Blastman.
- When you commission a robotic abrasive blasting solution you know you're going to need service for it. As of now, we have everything we need. If the machines will run as they should, our cooperation will go on for at least 10-15 years.
Jungwirth is especially pleased with Blastman's solution when comparing it to the preceding methods.
- Blastman beats them by far. The surface quality is better, the process much more efficient and, through replacing manual blasting, our occupational safety has increased.
To further elaborate, Jungwirth emphasizes two aspects.
- First, with an automated robotic blasting solution we have a distinct process we can stick with because we know what we get out of it. Secondly, the result is a more or less perfect piece that is ready for the next phase of its processing.
- This is important because we mainly produce engines with a requirement for high quality surfaces. For example, the paint surface on a ship's engine might need to stay intact for 40 years. For these reasons we have a lot of customers, as well as internal customers, with strict quality requirements which are now very easy to reach, and that is a big benefit for us.
Jungwirth states that in an industrial process something can always be improved and for the kind of operations run by MAN Energy Solutions the Blastman solution adds clear value.
- There are not that many foundries like us, but for the kind of projects we do, I would definitely recommend it, Jungwirth summarises.