Ponsse continues to rely on Blastman for abrasive blasting needs
Ponsse continues to rely on Blastman for abrasive blasting needs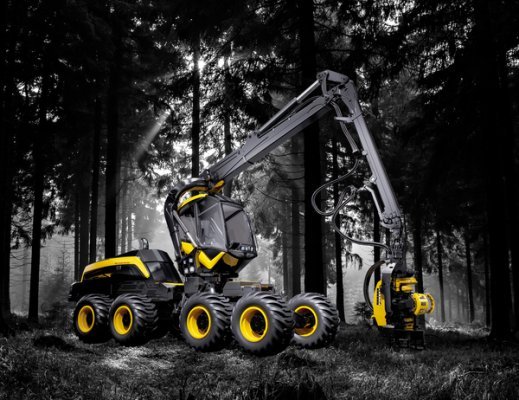 In 2007 Ponsse, one of the world's largest forest machine manufacturers and the leader of its home market in Finland set out to update its blast cleaning process.
- Our two primary motivators were the occupational health reasons regarding manual blasting and the possibility of speeding up our overall blast cleaning process, says
Hannu Tarvainen, a Surface Treatment Specialist and a Ponsse veteran of 36 years.
The surveying of different solutions soon led the company to Blastman Robotics. The cooperation has continued to be fruitful since then, but how did everything start?
Automated blast cleaning promotes occupational safety
Tarvainen is originally a sheet metal welder who was invited to join the ranks of Ponsse by the legendary founder Einari Vidgren himself. The year was 1989, and Tarvainen learned his way around sandblasting and painting at the company's brand-new paint shop.
- I ended up doing manual blasting for 15-16 years. Along the way, I've studied for many qualifications and diplomas and have now held an expert position for over ten years. Nowadays, everything related to surface treatment and quality problems goes through me.
It's no wonder that Tarvainen knows what he's talking about when he states that the company's abrasive blasting process, consisting of manual blasting and a centrifugal wheel solution, needed modernization.
- Our manual laborers had many sinus problems and strain injuries resulting from hand, wrist, and shoulder fatigue. Many workers even had to rely on surgical aid. And whether one has a health issue or not, there is always the heat and noise. Imagine only being able to do your job with earplugs under earmuffs under a hood. It's a grueling work environment.
Another problem Ponsse struggled with was the need to speed up production and being unable to do so with the more traditional methods.
- With our products, making the blast cleaning more efficient would have required a massive line for centrifugal blasting and a solution for revolving the workpiece since blast cleaning a stationary object with the wheel method is impossible, Tarvainen explains.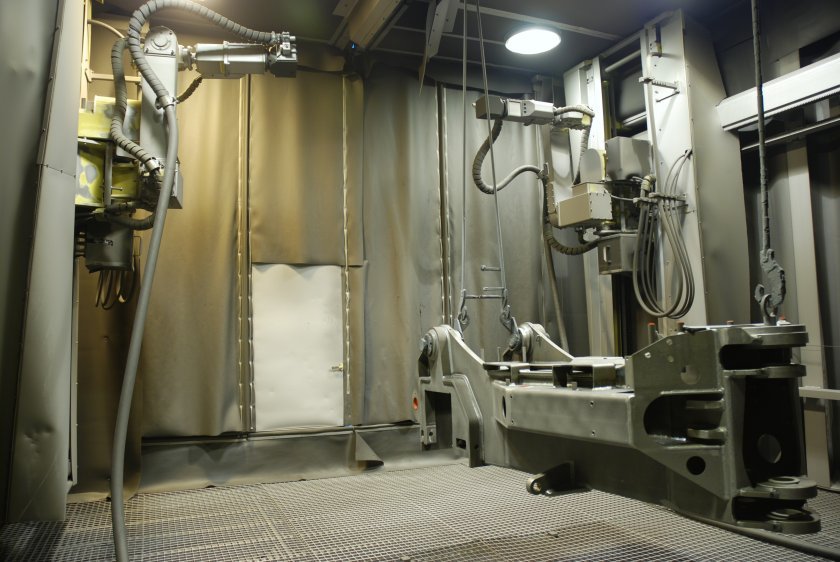 Two Blastman B16S blasting robots
Blastman a natural partner in abrasive blasting
To ensure better occupational safety conditions and a more flexible technical solution, Ponsse started to find out about alternatives – especially robotic automation, which would enable the blast cleaning of stationary objects of varying shapes and sizes. In the end, the choice was natural.
- Blastman has delivered so many robotic solutions during its time that it in itself conveys trustworthiness. Also, their salespeople never tried to sell anything forcibly. Instead, the communication was professional and courteous. All Ponsse's machines are manufactured in the company's birthplace in Vieremä, so proximity to an Oulu-based service provider was an added benefit, Tarvainen says.
The original solutions for Ponsse included a ceiling conveyor for the workpieces with a maximum capacity of 2000 kg and two wall-mounted blast cleaning robots.
- Originally, the robots had two electric axles, the rest being hydraulic. Since then, we have switched all of them to electric and brought in an additional robot, Tarvainen elaborates.
The original implementation had to take place during summertime within a one-month time window. Tarvainen says that in the mechanical installation, this was achieved while there was a slight hiccup in the deployment.
- The challenges lay in the software side of things, but as we got them working, there have been no problems. In fact, since 2007, our production hasn't stopped once because of Blastman's solutions. This is extremely important and valuable to us since if the process in the paint shop needs to be aborted it grinds practically the whole factory to a halt.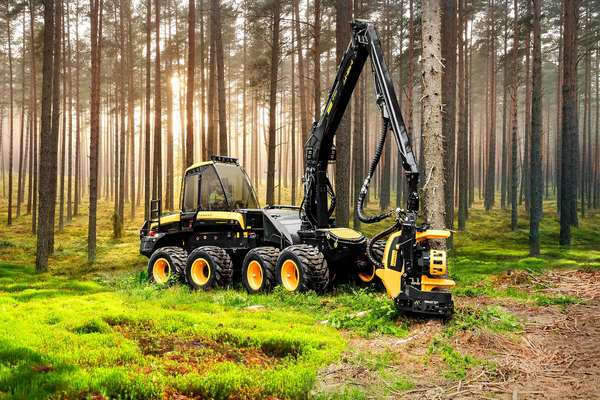 Healthier workers, and better efficiency through automated abrasive blasting
Tarvainen sees that with the help of Blastman's solutions, Ponsse has achieved what it set out to do.
- We have been able to speed up our process and, at the same time, get a consistent surface quality of SA 2,5. Also, our people who have previously been doing manual blasting can nowadays do something more productive, and what is best, they stay healthier.
Tarvainen is also happy with Blastman's service, especially with the keeping of what has been agreed upon without a need to negotiate – so much so that he grants Blastman 100 % trust and grades the cooperation and communication with a 10+. As an example, he brings up a specific happenstance.
- This one time, the postal service misplaced a spare parts delivery in the middle of our summer season, and a person from Blastman delivered replacements with his own car! This is, of course, an extreme example, but we can't complain. Their spare parts and aftersales services work and they have top people for that. There's never been a feeling of having to pay for nothing. In fact, it's best if we just stay out of the way, Tarvainen chuckles.
To the question of whether he would recommend the solutions of Blastman Robotics to others, Tarvainen has a direct answer.
- I already have. We have done plenty of cooperation in addition to our own process and have, for example, organized many international reference visits. There probably aren't that many places in the world where there is more than one robot in a space this small, especially on opposite walls.
However, a continuation of the cooperation regarding Ponsse's own production is also in sight.
We are putting up a new production line that would already be in place if our Eastern neighbor hadn't messed things up. We are also planning a powder coating line. One thing is for sure, though: under no circumstances are we going back to manual blasting, Tarvainen concludes.