BLASTMAN STUDIO - OFFLINE PROGRAMMING TOOL
Blastman generation 4.0 robots launched in the early beginnings of 2021, but I was not the only major R&D project for Blastman this year. For a long time now Blastman robotics has offered offline programming tool and programming services for customers. It was decided that the offline programming tool needed updating to support the new generation of Blastman blast cleaning robots. Therefore, the new offline programming software called Blastman Studio was created. Both Blastman R&D developments are also a step forward in the industry 4.0 approach in automated blast cleaning.
Benefits & features
One of the main goals for the Blastman Studio compared to the old offline programming software was to make it more user-friendly. This is achieved by making the user interface easy to navigate and easy to learn even by users with basic computer skills. Also adding new features to the program based on years of experience cooperating with our customers.
One of the biggest benefits of the offline programming tool is that customers can start to program their workpieces even before the parts go into production. If you have a 3D model of your workpiece and the Blastman Studio on your computer, you can prepare your blast cleaning process by making the programs beforehand. This saves time and money and helps customers optimize their surface treatment process.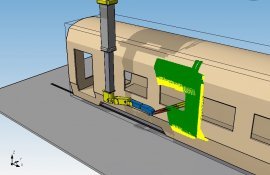 Picture 1. Blastman Studio
Blastman studios also provide tools like visual coverage for blasting patterns of nozzles, oscillations angels, and blasting distance. Also, multiple functions to help programming like copy/paste action, mirroring, sub-programming, collision detection, and customizable hotkeys. One key feature is checking simulations results with your computer. When you have finished programming with Blastman studios, you can quickly check the results by speeding up the simulation. If you must make corrections, you can modify the simulation in any program point or path. You can also choose to start the simulation at any program point. All these features are accessible with the Blastman Studio.
Requirements
The biggest question among customers is always the requirements from their personnel to use this program. With the Blastman Studio, you only need a Blastman Robotics robot, a basic laptop, 3D models of your workpiece (for example step file), and enthusiastic people. We have learned through experience that many times former manual blasting operators are the best choices to use the offline programming tool. Users only need basic computer skills and personnel who has worked in blasting environment have important process knowledge, which can be utilized to make optimized programs. Key benefits that customers receive by using Blastman Studios are optimization of the production cycle, tailored-made blasting programs, efficiency throughout the surface treatment process, and a proactive approach to blast cleaning needs.
Customer support
Before starting to use this program, Blastman system specialists will train customer personnel on using Blastman Studio and create customer-specific 3D cell-based on customers blast room. It is also beneficial to start training before the new robot is installed because it prepares customers to have a proactive approach to future programming needs. Our specialists are also available for customer support if some workpieces are more complex to program and assistance is needed. Also, the latest updates of the program are always available for customers who are actively using it.
Future
Blastman Studio will also include automatic programming in the future. Automatic programming can significantly reduce the time spent on making the blasting programs since the software will do most of the work for you. After the software has done the automatic programming, the person responsible only needs to check if there any minor corrections are necessary. This major upgrade will take Blastman Studio further into the industry 4.0 environment.
Teemu Runi
Sales Manager
Blastman Robotics Ltd