OFFSHORE BARGE REPAIR AND MANUFACTURING
OFFSHORE BARGE REPAIR AND MANUFACTURING
Case: Coastal USA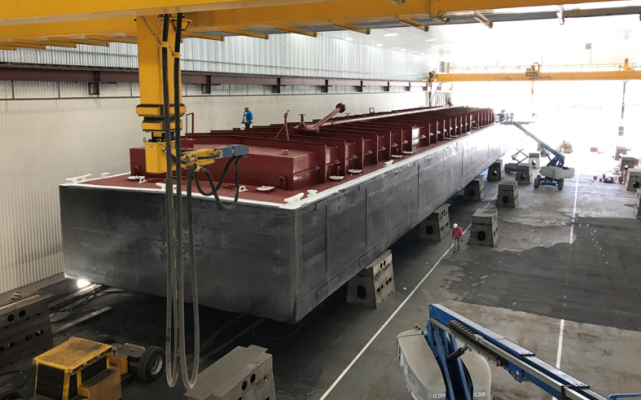 BACKGROUND
In the past products have been blast cleaned outdoors by manual blasting operations. The sheer amount of square meters that need to be cleaned requires a lot of work hours and manpower. Manual blasting also needs expensive and time-consuming scaffolding to reach all around the barge.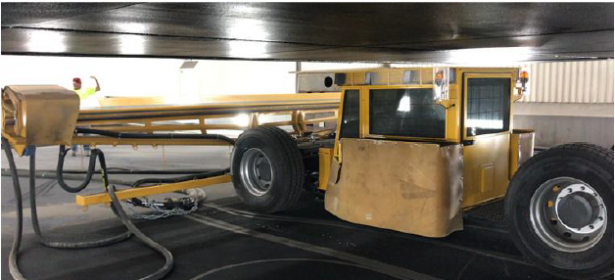 OBJECTIVES
The requirement was to blast clean exterior surfaces completely without the need for manual blasting. The underside of the barge needed to be blast cleaned as well. This requires a separate robot, because of the width of the workpiece.
The goal was to automize production, increase efficiency, quality, consistency, and lead time.
SOLUTION
The size of the blast room requires a very wide gantry bridge to gain access all around the barge.
To reach maximum capacity, two B20CS robots with large nozzles were installed in the blast room. Both robot arms have separate man cabinets to allow manipulator touch-up after automatic blasting.
To blast the underside of the barge, Blastman engineered the MBU – Mobile blasting unit. This is an electric car with blast nozzles driving below the barge whilst blast cleaning.
All automatic operations can be started and monitored from the operations room. Cameras were installed so that the process can be monitored better. Programming of the robots is done with 3D software.
TECHNICAL INFORMATION
| | |
| --- | --- |
| Nozzles | 6 * 19 mm |
| Number of nozzles/robot | 2 |
| Blasting pressure | 9 - 10 bar |
| Blasting rate | 36 hours for 2 barges |
| Abrasive | Steel grit |
| Degrees of freedom | 12 per robot |
| Programming | Offline programming |
| Operation mode | Automatic + Manipulator |
RESULTS
The delivered solution blast cleans huge barge exteriors completely without the need for manual blasting. This results in less idle motion in the blast room. Performance has increased dramatically and we've reached the required efficiency.
Engineered solutions have been tailored to fit customer requirements and conditions. The result is a state-of-the-art facility in shipbuilding and barge repair.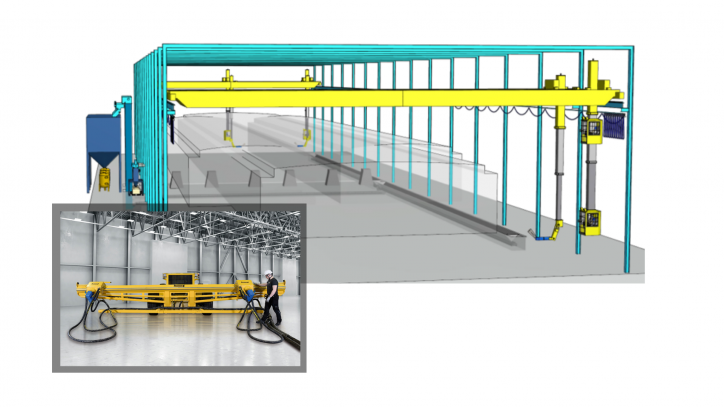 Customer experience
"We knew we had the capability to blast and paint barges quickly and efficiently, but what we've been able to accomplish in these first nine months has exceeded our expectations in both speed and quality of blast."
- Business owner in an industry-related magazine