Blastman Blast Pots
The blast pot operates as the heart of the blast cleaning system and the most critical component of the process. As part of the automatic robot operated blasting process, an accurate and reliable blast pot is needed. Blastman's development of the blast pot has always been based on the specific needs of the automatic robot operation.
Main function of the blast pot is to mix the abrasive into compressed air. In order to achieve efficient blast cleaning, accurate dozing of abrasive into the airflow is essential.
Blastman's blast pots are designed for high efficiency automatic blast cleaning processes. The dual chamber pressure vessel and automatic valve control ensures continuous blasting. Blastman`s blast pot is built for the biggest nozzles on the market. The large 19 mm nozzles provide the highest possible efficiency for any blast cleaning process.
IDEAL FOR ROBOT BLAST CLEANING

The blast pot is integrated into the robot control system allowing live monitoring through the user interface. The operator can set warning levels for the process and adjust the blasting pressure during blast cleaning. For preventing break downs, the system has alarms and monitoring for wear part maintenance.
LOW MAINTENANCE
The blast pot's unique chamber design maximizes abrasive media capacity, which keeps the refilling cycle time long and guarantees low maintenance costs.
VARIOUS DUTIES IN ONE
To save money and space, the blast pot has up to 4 nozzle connections. Adding a second nozzle for automatic robot blast cleaning or a manual blasting nozzle to the same pot gives you the full advantage and lowers your investment costs.
CERTIFICATES
Blastman has customers all around the world which is why blast pot is available in PED, ASME, TR ZU or TSG certifications.
---
MODEL BP1400
The biggest member of the Blastman blast pot family is the BP1400. The total volume of the blast pot is 1400 liters. It can be used with many different combinations for automatic robot and manual blast cleaning. The BP1400 can have up to 4 nozzles connected, of which 2 can be used for automatic robot blast cleaning. This abrasive blast pot is meant for heavy-duty operations.
Download datasheet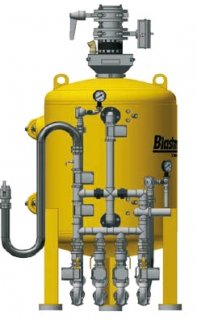 ---
MODEL BP1400
MODEL BP1100
The BP1100, with a total volume of 1100 liters, is ideal for any blast cleaning job requiring high production and flexibility. The BP1100 can be installed with up to 3 nozzles. Typically the blast pot is used with 2 nozzles for automatic robot blast cleaning applications. The third outlet can be equipped for manual blasting.
Download datasheet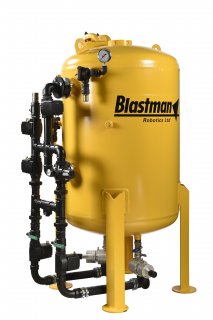 ---
MODEL BP1100
MODEL BP350
The BP350 is the original Blastman blast pot that has served for over 20 years and is still commonly used in robot applications worldwide. It has a volume of 350 liters, which is enough for most production needs. The BP350 is installed for automatic robot blast cleaning applications with 1 nozzle. It is significantly smaller in diameter, making it a compact space saver.
Download datasheet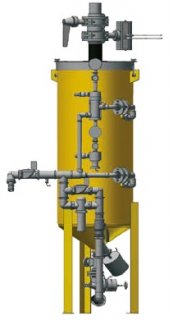 ---
MODEL BP350