Manlifts
Blastman man lifts are specially engineered to work reliably in a harsh environment.
---
BLASTMAN B20ML
The Blastman B20ML is a gantry-type manlift with a telescopic boom to move the operator platform around the workpiece. The Blastman B20ML has been engineered for both blast and paint rooms. The Blastman B20ML operates as an overhead crane and provides the best possible access around large workpieces without any scaffolding, movable boom lifts, or ladders. The B20ML can be installed in painting chambers replacing the traditional scaffolding and boom lifts.
Download datasheet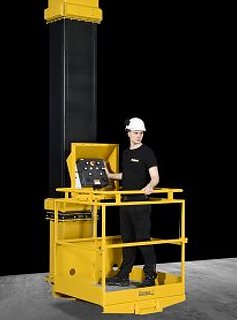 ---
BLASTMAN B20ML
BLASTMAN B16ML
The Blastman B16ML is robust and specifically engineered for the harsh blast room environment. The manlift helps the operator move vertically along the wall of the blast chamber. The manlift can also be used for touch-up, inspection, and quality control. The lift is controlled by the operator using a control panel located on the platform. The lift travels on a rail system fixed to the wall of the blast room. The longitudinal movement allows the lift to travel back and forth along the length of the blast room. The hoist of the platform provides the ability to elevate the operator platform from a low position to a higher position. The platform can be rotated in order to access objects across the full width of the blast room.
Download datasheet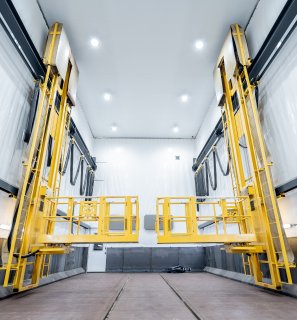 ---
BLASTMAN B16ML