WE´RE EXHIBITING AT PAINTEXPO 2022
WE´RE EXHIBITING AT PAINTEXPO 2022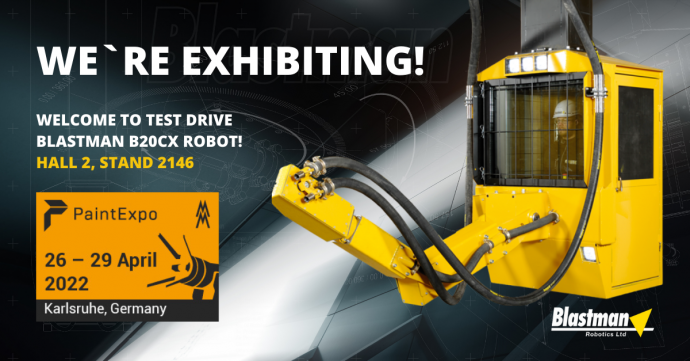 No compromises
Most of all defects when painting metal components can be traced back to poor substrate preparation. A reliable pre-treatment process, which reproducibly achieves the cleanliness and roughness of the component surface required for painting, guarantees the best possible adhesion and long service life. This can be achieved with robots specially developed for this purpose, which can use all blasting media in all grain sizes and shapes as well as the optimal blasting distance and angle.
In Hall 2 - Booth 2146 of the PaintExpo 2022, Blastman Robotics Ltd is presenting the 4th generation of its innovative blasting robots. These contain offline programming software specially developed for blasting robots, which has automatic program generation from the 3D data of the component and a simulation tool for a visual representation of the blasting process.
The latest control systems with intuitive operation also enable the connection to the Manufacturing Execution System and the control of various Smart Blast Room functions. As a result, the blasting robots can be easily implemented in existing systems and not only carry out the blasting processing with higher quality and faster but also cheaper and more safely.
SAVE THE DATE!
Blastman B20CX live robot at PaintExpo in Karlsruhe, Germany in 26 - 29 April, 2022.
PaintExpo is the leading trade fair for surface treatment technology.
Event link: https://www.paintexpo.de/
WELCOME TO VISIT OUR BOOTH!