BLAST CLEANING OF PASSENGER COACHES
BLAST CLEANING OF PASSENGER COACHES
Case: CSR Nanjing Puzhen Rolling Stock Co., Ltd. Nanjing, China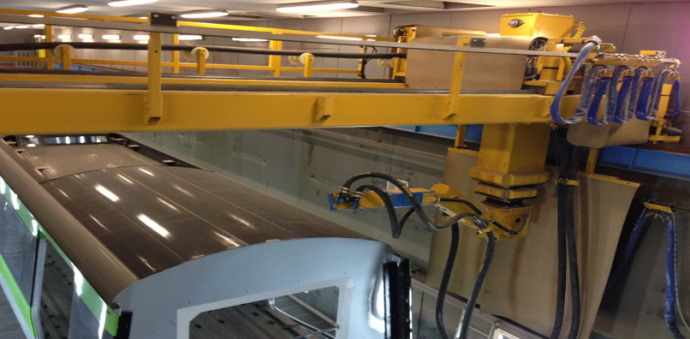 CSR Puzhen is an enterprise specializing in the research and manufacture of rail transport equipment in China and is the first-class large-scale company in China's railway equipment manufacturing industry.
BACKGROUND
CSR Nanjing Puzhen decided to renovate an old manual blast chamber into a robotic blast cleaning chamber for the passenger coaches. The customer stressed the importance of superior surface quality and increased production capacity.
OBJECTIVES
The requirement was to blast clean completely exterior surfaces and essential interior surfaces of various metro cars within the specified cycle time.
Advantages of Automated Blast Cleaning
considerable savings in production costs
increased production capacity
remarkable health and safety implications
freedom to use any abrasive material
desired surface cleanliness and roughness
slight surface shaping by controlling the blast pressure
working lifts and platforms are not needed
increased fatigue strength of specific welded joints

---
Technical Information
Nozzle diameter 16 mm
Number of nozzles/robot 2
Blasting pressure 6,5 bar
Blasting rate 3 hours per car
Abrasive Corundum
Degrees of freedom 8
Programming Point-to-Point
Operation mode Automatic
---
SOLUTION
A Blastman B20S robot was installed in the existing manual blast chamber with two blast pots. The existing chamber was reinforced by steel structures. Additional silos and elevators were installed in order to ensure constant abrasive flow.
RESULTS
Blastman robot is perfectly integrated into the customer's existing manual blast chamber. The quality of surface roughness and cleanliness was improved. There is no need for manual blasting anymore. This was Blastman's first renovation project in China. It gave potential customers a new idea of how to improve production with a robotic blast cleaning solution.