BLAST CLEANING OF TRUCK BODIES, CONTAINERS, AND STEEL STRUCTURES
BLAST CLEANING OF TRUCK BODIES, CONTAINERS, AND STEEL STRUCTURES
Case: Ajo-Motor Oy, Oulu, Finland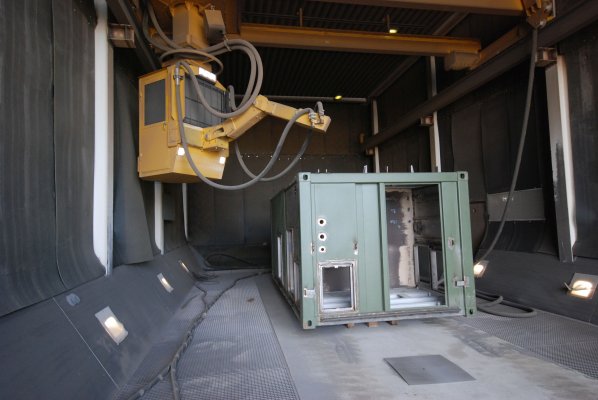 Ajo-Motor is the leading blasting and painting company locally in Oulu for trucks, earthmoving machinery, industrial structures, containers, and tanks.
BACKGROUND
Ajo-Motor is a family-owned company providing high-quality surface treatment services of trucks and heavy structures.
Ajo-Motor decided to increase productivity and improve the safety and health status of their blasting facility.
Challenge was varying products to be blasted including some orders for repeating products as well.
Materials to be blasted are made of steel, stainless steel, and aluminum.
Blastman B20CX robot, as innovation has the advantages of a fully automatic robot as well as a manually joystick operated manipulator, was selected and installed.
Blastman delivery included new abrasive handling machinery and a ventilation system.
FUNCTION
Blastman B20CX is used as a manipulator when there are varying products to be blasted.
Some repeating products like containers are cleaned automatically using Teach-in programmed blasting programs.
The robot has 2 abrasives in use, chrome slags as nonferrous abrasive and steel grit as ferrous abrasive.
Advantages of Automated Blast Cleaning
considerable savings in production costs
increased production capacity
remarkable health and safety implications
freedom to use any abrasive material
desired surface cleanliness and roughness
slight surface shaping by controlling the blast pressure
working lifts and platforms not needed
increased fatigue strength of specific welded joints
---
Technical Information
Nozzle diameter 14 mm
Degrees of freedom 8
Number of nozzles/robot 1
Programming Teach-in
Blasting pressure 8 bar
Operation mode Automatic
Blasting rate 2 main assemblies/hr
Abrasive Steel grit and chrome slag
---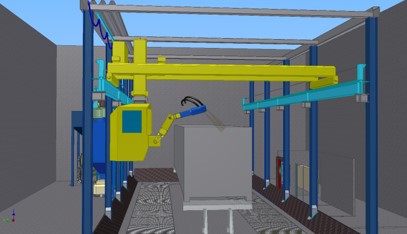 OBJECTIVES
The intention of the owners of the company was to increase the blast room capacity remarkably.
Ajo-Motor foresees some customers and orders, where there would be more and more repeating workpieces, therefore it was decided and calculated that the robotic operation would payback.
Anyway, the production would be varying a lot in the future as well, therefore robot should be handy to operate manually as a manipulator.
Besides steel grit as an abrasive nonferrous abrasive was needed to blast products made of aluminum and stainless steel.
RESULTS
Blastman robot meets the requirements and provides an excellent tool for the customer to further develop the blasting process.
After a rather short learning curve, it has been found out that the decision for the robot was just the right.
Ergonomic conditions and safety in the blast room have improved remarkably.
Blasting time for certain workpieces is less than 30 % compared to manual blasting.