BLASTMAN B16ML MANLIFTS
Case: Bombardier Transportation France, Crespin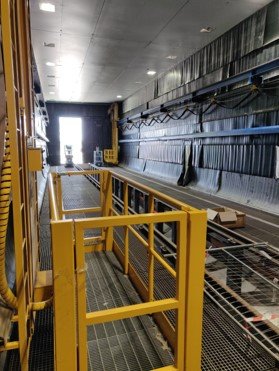 BACKGROUND
Blastman Robotics has previously delivered a B20S robot and two B16ML manlifts for their blast room. The delivery was made in 2013. This delivery is the 7th delivery Blastman is making for Bombardier globally.
Recently Bombardier expanded their surface treatment facilities. For these facilities, Blastman Robotics provided two B16ML manlifts. Blastman also provided the design work so that a robot can be added later on very easily. The blast room was made big and strong enough for a robot solution. Additionally, the robot runs on the same rails as the manlifts, making future installation quick and easy.
OBJECTIVES
The requirement was to design the blast room according to robot specifications and deliver manlifts in the first stage. The second stage will include a robotic solution.
SOLUTION
The blast room is equipped with two B16ML manlifts. The blast room steel structure and rails are designed so that a robot can be added.
Bombardier was convinced of the B16ML manlifts, because the previously delivered models have had less than 5 breakdowns since starting operation in 2013.
---
TECHNICAL INFORMATION
Manlift model: B16ML
Load capacity: 300 kg per manlift
Longitudinal speed: 0,3 m/s
Vertical speed: 0,2 m/s
Rotational speed: 20º/s
Blast room suitable for robot installation
Rails compatible with robot
Interfacing with robot and manlifts
---

RESULTS
The manlifts and rails were installed in a period of 7 days. The manlifts are designed in a way that they only require simple commissioning. Therefore the manlifts were ready for operation as soon as power was connected.
"We chose Blastman who seemed to us the most advanced company in robotic technology for the sandblasting process. We were finally convinced that the product was suitable for our project and particularly appreciated Blastman's technical and human qualities in all steps from the studies to the start of the installation and final commissioning.
The simplicity of use and robustness of the product were determining factors to choose the solution and the principal benefits for the users. Also, the efficient system interface with the robot allows us to save time and increase productivity. The Blastman team gives us the key to implement a solution that meets our needs.
For more than seven years, we have been working with Blastman on the automation of the sandblasting process for new railway contracts. Blastman has proven to be an adequate partner for its remote and field services. We appreciate Blastman's skills and reactivity and we'll continue to work with them on new automation projects in the future."
Philippe Hallard, Bombardier,Crespin