BLASTMAN ROBOT LIVE DEMONSTRATION AT INNOTRANS 2022
BLASTMAN ROBOT LIVE DEMONSTRATION AT INNOTRANS 2022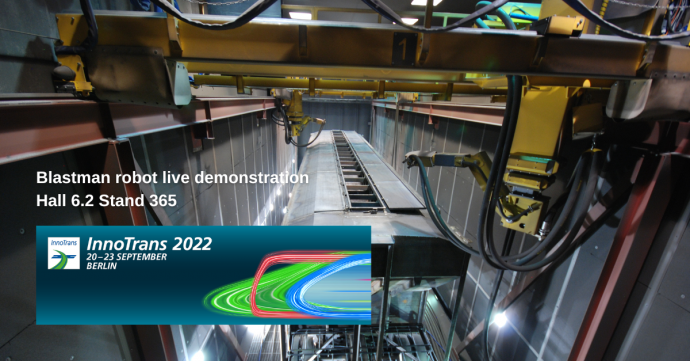 Rail Rolling Stock
Painting quality of transport technology is very critical because the trains, cars, and passenger coaches are directly exposed to transport and weather conditions. The exterior paint job gets hit by stones, dust, and sand constantly, damaging the paint and possibly peeling poorly adhered sections.
Additionally, the interior coating quality is crucial as well, since it is often measured and needs to be in accordance with national or international standards. The interior coating also wears over time as the contents of the freight car are loaded and unloaded. Often the materials transported can be corrosive themselves, putting an extra strain on the interior coating. When we are talking about passenger coaches the paint protects the interior from corrosion and the visual appearance of the train car is important to passengers.
The Blastman automatic robot is able to blast clean the interior and exterior surfaces of train cars and freight cars, whilst providing a constant surface quality for every part of the surface. Constant and high-quality surface treatment is essential, since 80 % of all paint, and other coating, failures are caused by poor surface pre-treatment. High-quality surface treatment prior to coating ensures excellent adhesion between the coating and metal surface.
A mechanically strong paint film also prolongs the lifetime of a freight car and passenger coaches. Often manufacturers are required to give a warranty for the exterior paint job and interior coating. To ensure the coating lasts for a long time, proper surface treatment prior to painting is required.
Products blast cleaned every day by Blastman robots:
Regional trains
Suburban trains
Intercity trains
High-speed trains
Metro cars
Box cars
Hopper cars
Tank cars
Flat cars
Gondolas
Autoracks
And many more
WELCOME TO VISIT OUR BOOTH!
Blastman robot live demonstration at InnoTrans 2022, 20 - 23 September, hall 6.2 booth 365. Innotrans is the leading international trade fair for transport technology and takes places every two years in Berlin.
Blastman Robotics Ltd is presenting the 4th generation of its innovative blasting robots. These contain offline programming software specially developed for blasting robots, which has automatic program generation from the 3D data of the component and a simulation tool for a visual representation of the blasting process.
The latest control systems with intuitive operation also enable the connection to the Manufacturing Execution System and the control of various Smart Blast Room functions. As a result, the blasting robots can be easily implemented in existing systems and not only carry out the blasting processing with higher quality and faster but also cheaper and more safely.
Event link: https://www.innotrans.de/en/