Blog
Typical efficiency in robotic blast cleaning

Blasting is the dominant method when it comes to the pre-treatment of large metal structures before applying coatings but is a very demanding and tiring process in a hazardous environment. For many metal structures, such work can be carried out with specially designed blast cleaning robots, which achieve significantly higher efficiency.
Especially in the case of large metal structures, such as railway vehicles or large castings, robotic blasting is the most efficient cleaning method in addition to the reproducible higher quality and safe use provided by the robotic system. Manual blast cleaning of large metal structures needs a lot of effort, as workers are exposed to high physical stress in a hazardous environment. The major advantage of the blasting robots is that they are inexhaustible, even at high output rates. Due to the powerful recoil forces caused by the abrasive jet leaving the nozzle, the nozzle diameters for manual blasting at 6 to 7 bar cannot be more than 12 to 13 mm. Modern blast cleaning robots can handle nozzles up to 19 mm in diameter at blasting pressures of up to 10 bar, without any restrictions. This alone means that their blasting performance is many times greater than that of manual blasting - and can be increased by adding a second nozzle to the robot arm. With basic conditions, a blasting performance of over 200 m²/hour can be achieved, while an average worker is unable to manage even 15 m²/hour.
Examples of such applications include blast cleaning passenger coaches and freight cars, as these parts feature many large and difficult-to-reach surfaces. Blast cleaning of their interior surfaces can be performed and completed according to specifications by guiding the robot arm through the rail car's openings. Since such cars are typically produced in series, the automated functionality of blasting robots provides added benefits to manufacturers.
Passenger coach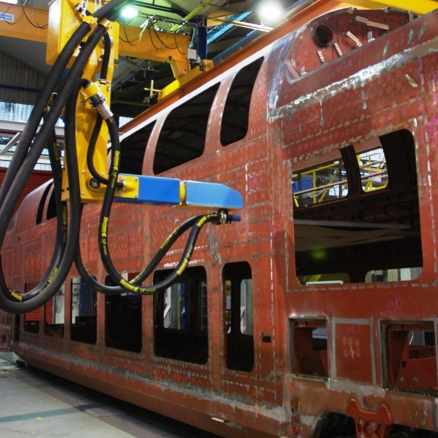 Manual vs Robot blast cleaning of a Passenger coach
| | | |
| --- | --- | --- |
| Blasting method | Manual | Robot |
| Number of blasters | 4 workers | 1 robot |
| Number of nozzles | 4 pcs | 2 pcs |
| Nozzle diameter | 13 mm | 19 mm |
| Blasting pressure | 6.5 bar | 7.5 bar |
| Blasting media | Corundum | Corundum |
| Cleaning rate/hour | 45 m² | 75 m² |
| Coverage | 100% | 100% |
| Total time | 9.5 hrs | 6.0 hrs |
| Quality | Moderate (varies) | Constant high |
The scope of applications of wheel blast machines is limited to simple components of a certain type and size, which often requires a manual post-process as the wheel blast machines cannot reach many surface areas. To keep the wear within limits, wheel blast machines must predominantly use large, rounded particles. However, the smallest possible angular abrasives should be used as blasting media, as these achieve a higher speed and, due to the larger number, a higher surface coverage. As a result, the workpiece is not only cleaned faster but also has a larger total surface area for the coating to adhere to, which has a positive effect on the adhesion of the coating to be applied. In addition, small particles have a lower consumption rate because they do not break as quickly. Blasting robots, on the other hand, can use all abrasives in all grain sizes and shapes. Robots also clean the workpiece surface of any abrasives and dust with compressed air.
Blasting robots are also the preferable means of removing agglomerated sand from casted components, such as rotor hubs for wind turbines and motor blocks for marine diesel engines. Such stubborn deposits are removed in a targeted manner with a mix of coarse steel grit and shot at abrasive impact velocities of up to 200 m/s.
Crankcase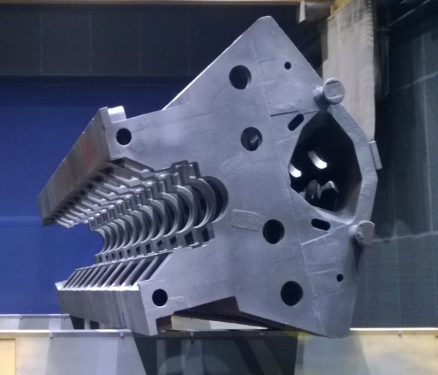 Wheel machine vs Robot blast cleaning of a Crankcase
| | | |
| --- | --- | --- |
| Blasting method | Wheel Machine | Robot |
| Number of systems | 4 turbines | 2 robots |
| Model | 3000 rpm | 4 x 19 mm nozzles |
| Power | 30 kW | 10 bar |
| Blasting media | Steel shot | Steel shot & grit |
| Abrasive speed | 70-90 m/s | 150-200 m/s |
| Blasting time | 2 x 5 hrs | 2 x 5.5 hrs |
| Setup processes (turning) | 4 x 45 min | ./. |
| Coverage | 75% | 95% |
| Manual blasting & blow out | 2 x 3.5 hrs | 2 x 30 min |
| Total time | 20 hrs | 12 hrs |
| Quality | Moderate (varies) | Constant high |
Highly versatile
Both above examples demonstrate that blasting robots are the most efficient means of cleaning. Their use is particularly cost-effective both in cases where manual blasting would be very time-consuming and in those that involve components that would otherwise require additional follow-up by blasting manually. In addition, blasting robots, with integrated control cabins, are very flexible in operations where a diverse range of products are treated. They are also ideally suited to dealing with the wide variety of surfaces that arise when maintaining and repairing used components. Above all, blasting robots are beneficial because they reduce processing times, guarantee repeatable high quality and assure greater occupational safety.
Heiko Reski
Blastman Robotics Ltd