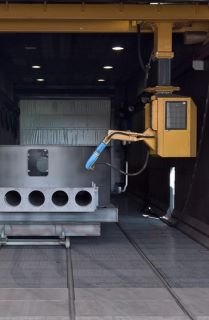 O.I.L N.V
O.I.L N.V is a blast and paint contractor of various steel structures. Blastman supplied them with a B20CX blast cleaning solution in 2017. The B20CX model gives O.I.L the flexibility to blast clean various products as well as use automatic programs to treat more repetitive workpieces.
Our references include:
Coes Metaalbescherming, The Netherlands
Ajo-Motor Oy, Oulu, Finland
Normek Oy, Oulu, Finland
O.I.L, Belgium
Rowi, The Netheherlands
Högfors Steka, Lievestuore, Finaland
---
Blast and Paint Contractors
Subcontracting surface treatment is a part of the blast cleaning industry worldwide. Manufacturers and repair shops are sometimes faced with space constraints or production efficiency limits to adequately handle their surface treatment operation and are forced to subcontract a part of their production.
Today contractors are facing increasing problems to find people for manual blast cleaning. As a company, Blastman Robotics believes that blast cleaning is not meant for humans. Upgrading to a Blastman robotic blast cleaning solution means that finding motivated workers becomes easier. Blastman provides a wide range of automatic blast cleaning robots which can be manually operated. This means that a huge variety of products can be effectively and efficiently blast cleaned prior to painting.
Automatic Blastman robots also provide the capability to record the movements made by the operator. This creates the very efficient situation, where even 2 similar workpieces can become part of serial production as the movements can be repeated automatically. Additionally, all programs are saved into the robot system, so the next time blast cleaning is required for the same workpiece, it can be done completely automatically.
Contractors are often required to give warranties for the painted surface. This can be done comfortably only, if the surface treatment prior to painting is high quality. 80 % of paint failures are caused by inadequate surface treatment prior to painting. Automatic Blastman abrasive blast cleaning robots produce the same high quality everytime ensuring proper adhesion between the paint film and metal surface.
Blastman automatic robots and manipulators are an excellent solution to solve production bottle necks.
---