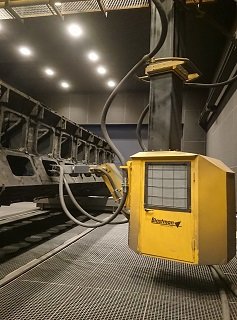 SIEMPELKAMP GIESSEREI GMBH
Blastman supplied blast cleaning solution in 2019 and as a result, the work can be carried out not only more quickly and safely, but also at a lower cost and to a higher standard of quality. Siempelkamp is producing a variety of motor blocks, some of the largest in the world. The B20CX allows to easily react to changes in workpieces and also provides a fully automatic process for frequent workpieces.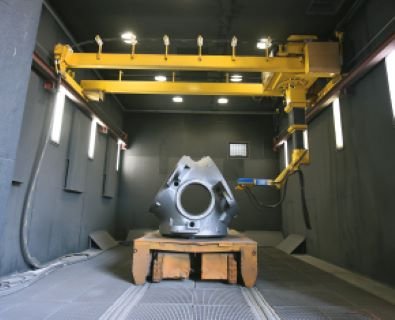 EISENGIESSEREI TORGELOW GmbH
Eisengiesserei Torgelow GmbH is using a Blastman B20S robot to blast clean various foundry products, including windmill tower hubs. The robot is able to blast clean the products with the required efficiency and remove the agglomerated sand from the surface.
---
Testimonials
"Our Blastman equipment is for blast cleaning, which is what Siempelkamp stands for in cast parts: fast, reliable, highly efficient, and top-quality results. By using special blasting robots, such work is not only carried out more quickly and safely but also cheaper and with higher quality."
Dr Geier's, Siempelkamp, Germany
---
Our references include:
Valmet Technologies Oy, Jyväskylä, Finland
Jiangsu Gangrui, Taiwan
Jiangsu Gangrui, China
Friedrich-Wilhelms-Hütte Eisenguss, Mühlheim, Germany
Caterpillar Castings, Kiel, Germany
Caterpillar Inc., Mapleton, USA
General Electric Power, Elblag, Poland
Componenta Oyj, Iisalmi, Finland
Foundry Mora, Gavardo, Italy
Eisengiesserei, Torgelow, Germany
Siempelkamp, Krefeld, Germany
MAN, Germany
---
Foundries
Abrasive blast cleaning is the optimal method for finishing the casting surface. The best results are reached with heavyweight abrasive particles, large blast nozzles, and high pressures. These create high kinetic energy for particles hitting the casting surface. For a manual blast cleaner, it is impossible to handle these three factors in day-to-day operation. Operators get fatigued and soon the quality of the surface starts to deteriorate.
An automatic Blastman blast cleaning robot has no problem operating in these conditions. An abrasive blast cleaning robot can handle up to two 19 mm nozzles with up to 10 bar pressure each. Additionally, all kinds of abrasives are suitable for a Blastman robot.
Surface treatment of foundry castings is also crucial to prevent rusting of the workpieces. A constant high-quality surface is only achieved through automatic abrasive blast cleaning operation. This ensures proper adhesion between the paint film and the metal surface. An automatic Blastman robot provides a high-quality blats-cleaned surface every time for each workpiece.
Products blast cleaned every day by Blastman robots:
Engine blocks
Paper machinery parts
Turbine parts
Machine parts
Parts for the energy industry
Wind turbine components
---