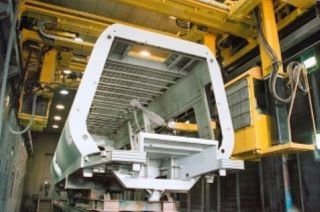 ALSTOM
Blastman has supplied Alstom with robotic blasting systems since 1988. Blastman has delivered robotic blast cleaning solutions to different industrial units in Italy, Germany, France, Poland, and the Czech Republic. Blastman has been one of the suppliers helping Alstom achieve operational excellence and improve the quality, efficiency, and safety of its blast cleaning process.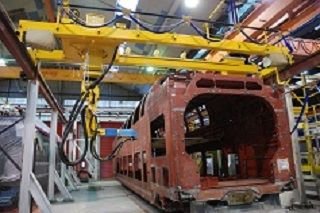 BOMBARDIER
The first Blastman robot was supplied to Bombardier in 1994. Since then more robot solutions have been installed in different factories in Germany, China, United Kingdom, Poland, France, and the Czech Republic. The type of rail car varies between these production sites and Blastman robots have been used to automize the process and generally improve the process.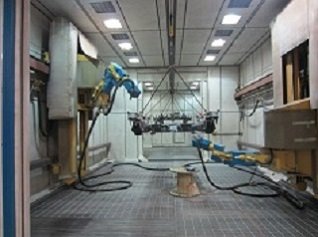 CRRC
CRRC is committed to supplying products of the highest quality to its customers. Thanks to the mutual trust and efforts between Blastman and CRRC, Blastman has supplied 7 robot solutions in China. This has allowed CRRC to automize its processes and improve quality, efficiency, and safety.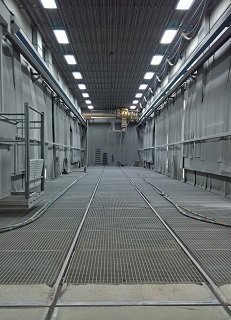 STADLER
Blastman has supplied two deliveries Stadler Valencia, Spain, and Stadler Bussnang AB, Switzerland in 2017 to blast clean passenger coaches and locomotives. This has helped Stadler automize their blast cleaning process and increase efficiency and quality.
---
Testimonials
"We are already operating with the third generation Blastman robots. Maintenance costs are low, even though
we use the robots in three shifts."
Andre Sunke, Alstom, Germany
"Our production efficiency increased by a total of 40% with the Blastman solution. The actual payback time has been two years and four months."
Sébastien Marino, Bombardier, France
''In order to continue enhancing Bombardier car finishing facilities and to release humans from the harsh work environment, we became the first railcar manufacturer in China to realize robot blasting of interior and exterior of the car bodies by choosing Blastman as a turnkey delivery partner.
Blastman blast robot has been continuous under operation and cleaning bodies of passenger coaches since December 2010. Robot plant has met our requirement by providing high surface quality and the capacity of 8hours per car body. Blastman service team provides fast and efficient support to keep the robot perform reliably. Blastman is a valued partner within our organization. ''
Bombardier Sifang(Qingdao) Transportation Ltd
"In 2013, we [BT] had to face an increase in production volume of up to 50% [railway cars]. Our sandblasting room was the bottleneck of the paint shop and considered to be the most critical equipment. So, we decided to implement a robot for process automation to increase our production capacity.
We chose Blastman who seemed to us the most advanced company in robotic technology for sandblasting process. We were finally convinced that the product was suitable for our project and particularly appreciated Blastman's technical and human qualities in all steps from the studies to the start of the installation and final commissioning.
The simplicity of use and robustness of the product were determining factors to choose the solution and the principal benefits for the users. Also, the efficient system interface with the robot allows us to save time and increase productivity. The Blastman team gives us the key to implement a solution that meets our needs.
For more than seven years, we have been working with Blastman on the automation of the sandblasting process for new railway contracts. Blastman has proven to be an adequate partner for its remote and field services. We appreciate Blastman's skills and reactivity and we'll continue to work with them on new automation projects in the future."
Bombardier Transportation Ltd. Bon courage, Philippe
''We imported a set of the automatic sandblasting robots from Blastman for blast cleaning the surface of aluminum car body in 2016. The operation of the equipment is stable, and the efficiency is high. It has greatly reduced the labor forces on manual sandblasting and protect them from the harsh sandblasting environment.
We are satisfied with the operation and production of the Blastman automatic robot equipment.''
CRRC Zhengzhou Rail Transit Co., Ltd
---
Our references include:
Alstom, Barcelona, Spain
Alstom, Colleferro, Italy
Alstom, Savigliano, Italy
Alstom, Salzgitter, Germany
Bombardier, Česká Lípa, Czech
Bombardier, Crespin, France
Bombardier Sifang (Qingdao) Transportation Ltd., China
Bombardier, United Kindom
Bombardier, Wroclaw, Poland
CRRC, Zhuzhou, China
CRRC, Guangdong, China
CRRC, Nanjin Puzhen, China
CRRC, Qingdao Sifang Co., Ltd., China
CXR, Chengdu, China
Stadler Bussnang AG, Switzerland
Stadler Valencia, Spain
DI Environnement, Chalindrey, France
Strahltecnik K-Wessling, Germany
Inveho, Germany
---
Rail Rolling Stock – Passenger Coaches
The painting quality of passenger coaches is very critical because the car is directly exposed to transport and weather conditions when moving. The exterior paint job gets hit by stones, dust, and sand constantly, damaging the paint and possibly peeling poorly adhered sections.
The interior coating cannot be neglected either. The paint protects the interior from corrosion and the visual appearance of the train car is important to passengers.
The Blastman automatic robot is able to blast clean the interior and exterior surfaces of passenger coaches, whilst providing a constant surface quality for every part of the surface. Constant and high-quality blast cleaning is essential since 80 % of all paint failures are caused by poor surface treatment prior to painting. A high-quality surface treatment ensures excellent adhesion between the paint and the metal surface.
A mechanically strong paint film also prolongs the lifetime of a passenger coach. Often manufacturers are required to give a warranty for the paint job. To ensure the coating lasts for a long time, proper surface treatment prior to painting is required. Additionally, proper surface treatment reduces the number of reclamations, resulting from the poor paint job, made by the end customer.
Products blast cleaned every day by Blastman robots:
Regional trains
Suburban trains
Intercity trains
High-speed trains
Metro cars
---