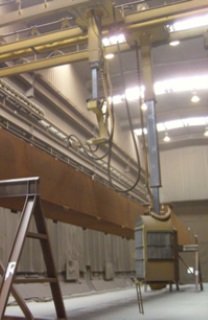 LIEBHERR
Blastman has supplied Liebherr with several robotic blasting solutions since 1999 to Germany and Ireland. The delivered solutions have satisfied Liebherr´s uncompromising quality requirements and provided the required improvements to efficiency. Today Blastman has supplied Liebherr with a total of 5 robot solutions.
Our references include:
Samsung Heavy Industries, South Korea
MacGregor Hägglunds, Sweden
Liebherr Container Cranes, Ireland
Liebherr-MCCtec Rostock GmbH, Germany
Kalmar Industries AB, Sweden
---
Cranes
All kinds of cranes require a strong long-lasting painted surface. This is especially the case for cranes operating outdoors. Proper surface treatment prior to painting ensures good adhesion between the paint film and the crane frame. This ensures a longer lifetime for the crane as it won't rust as quickly and less repair work is needed.
The visual appearance of large cranes is part of our view and the environment is important as well.
All cranes are subject to regular inspection and condition control. A properly painted surface is required in these inspections.
Crane manufacturers are often required to provide a long-term warranty. This includes the painted surface of the crane structure.
A long-lasting paint job can only be guaranteed, if the surface preparation prior to the painting is perfect.
Products blast cleaned every day by Blastman robots:
Container cranes
Mobile harbor cranes
Mobile cranes
Ship cranes
---