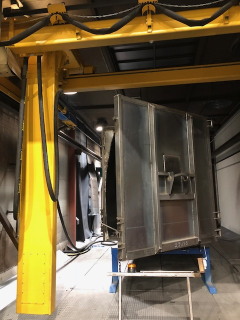 EUROPRESS GROUP OY
Blastman delivered an automatic robot blasting solution for Europress Group in 2019 to improve the quality and efficiency of production. Naturally, the health and safety of the operators were greatly improved simultaneously.
---
Testimonials
"The robot has completely replaced one of the operator's heaviest work phases, which has been often a factory bottleneck in the past. We are pleased with the investment after keeping the utilization rate high due to systematic preventive maintenance."
Markus Lahtinen, Vice President of Production, Europress Group Oy
---
Our references include:
Rautaruukki Oy, Finland
Abakan Wagonmash, Russia
Maersk Container Industri, Denmark
Balticum Frinab Ab, Sweden
Icova B.V., The Netherlands
Europress Group Oy, Finland
Spruiterij Gouweleeuw B.V., Netherlands
---
Containers
Transportation and storage of various materials take mainly place by containers.
The visual appearance of containers is becoming more critical because the containers in transportation and storage are often part of our everyday environment.
Generally, companies want to keep their containers looking good as they also act as billboards on the move. Nearly all containers have a company logo painted on the side.
The mechanical life of the containers depends remarkably on the quality of the surface treatment. Proper surface treatment reduces the risk of rusting, making the lifetime longer.
Blastman robot-operated blasting is the perfect solution for surface preparation prior to painting. This applies to new production and repair work.
Products blast cleaned every day by Blastman robots:
Sea freight containers
Reefer containers
Waste material containers
Waste material compactors
Large trash bins
Container silos
---