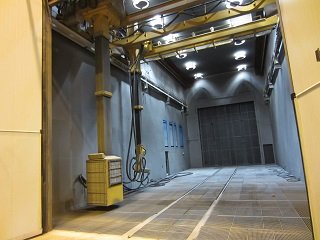 ABB POWER TRANSFORMERS AB
Blastman has been involved in ABB Ludvika surface treatment production since 1989 by delivering several robotic blasting solutions. First delivery in 1989, B20C robot, second delivery in 2016, B20CS robot, and third delivery in 2017, B20ML manlift. This has allowed ABB to automize their production and use the B20ML manlift to increase efficiency in their painting process.
Our references include:
ABB Power Transformers, Ludvika, Sweden
Jiangsu Gangrui, Taiwan
Jiangsu Gangrui, China
TBEA Co., Ltd., Shenyang China (2 deliveries)
TBEA Co., Ltd., Hengyang China
Siemens Industrial Turbomachinery, Finspång, Sweden
Siemens Power Generation, Berlin, Germany
Caterpillar Castings Kiel GmbH
Caterpillar Inc., Mapleton, USA
Fonderie Mora Spa, Gavardo, Italy
GE Power sp z o.o. (General Electric) Elblag Poland ( 2 deliveries)
---
Power Energy Industry
Large Steel structures and castings for the power and energy industry typically have the highest manufacturing standards.
A long lifetime of the paint job and surface treatment is mandatory due to extreme difficulties and costs associated with the repair and maintenance of the painted surface.
Typically, transformers and power generation types of machinery are operating at varying temperatures causing stress for the painted surface. Due to the fact that 80 % of paint failures are caused by poor preparation of the surface prior to painting, automatic robotic blasting is by far the best way to provide constant high-quality surface preparation.
Structures are often placed outdoors and directly exposed to changes in weather conditions. Therefore, a high-quality surface treatment grade is required.
Products blast cleaned every day by Blastman robots:
Steam and gas turbine parts
Power transformers
---