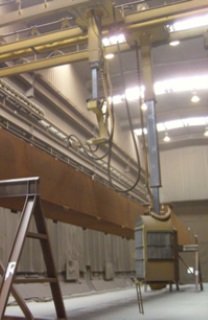 LIEBHERR CONTAINER CRANES
Blastman has supplied Liebherr with several robotic blasting solutions since 1999 to Germany and Ireland. The delivered solutions have satisfied Liebherr´s uncompromising quality requirements and provided the required improvements to efficiency. Today Blastman has supplied Liebherr with a total of 5 robot solutions.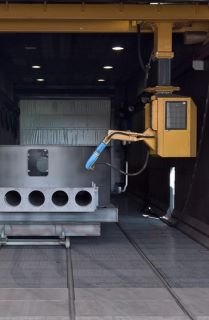 O.I.L N.V
O.I.L N.V is a blast and paint contractor of various steel structures. Blastman supplied them with a B20CX blast cleaning solution in 2017. The B20CX model gives O.I.L the flexibility to blast clean various products as well as use automatic programs to treat more repetitive workpieces.
Our references include:
Liebherr, Rostock, Germany
FAW, Liuzhou, China
Swire, Stavanger, Norway
Swire, Aberden, Norway
Iemants, Arendonk, Belgium
Sperre Sveis, Søvik, Norway
Rautaruukki Oyj, Peräseinäjoki, Finland
Cimolai, Roveredo, Italy
Cimtas Celik Imalat Montaj ve Tesisat A.S, Gemlik, Turkey
Peikko Finland Oy, Lahti, Finland
Ajo-Motor Oy, Oulu, Finland
O.I.L., Adegem, Belgium
Aebi-Schmit, Holten, the Netherlands
Epoke, Vejen, Denmark
---
Steel Structures
Welded steel structures need to be blast cleaned prior to painting. Steel structures of all sizes can be blast cleaned either manually or automatically with a robot. An automatic robot solution is far more efficient than traditional manual blast cleaning. Also, the need to build scaffolding or use ladders, when blasting large structures, is eliminated when a Blastman robot is used.
Steel structures can be placed in all kinds of different environments. However, a common characteristic for all steel structures is that a properly painted surface is required. 80 % of all paint failures are caused by inadequate surface preparation prior to painting. With an automatic blast cleaning robot, the quality of abrasive blast cleaning remains a constant high quality in regard to cleanliness and roughness.
Products blast cleaned every day by Blastman robots:
Steel constructions for buildings
Steel construction for bridges
Road maintenance equipment
Military equipment
---